Designer Flooring
Best Kota Stone Designs For Home
Best Kota Stone Tile Flooring Design Ideas that can Transform Your Home
The attention of people has been drawn to Kota Stone flooring for millennia. Since the minerals and crystals that make up kota limestone vary in amount and location, no two pieces of tile made from it are ever exactly same, giving each one a distinctive and lovely appearance.
Limestone has a great deal of variance, making it feasible to employ this natural material to make an almost limitless variety of different floors. These stone tile flooring design ideas will help you revamp your home, whether you're searching for a new floor for your bathroom, kitchen, or entryway.
Kota Stone Rectangle Design Pattern
Polished kota stone tiles bring beauty to any space in the house and, by reflecting upward, improve natural illumination. This Kota stone floor features an offset pattern or long flowing slabs that measure 12 by 24. The tile's long lines help to lengthen the room by drawing the eye down. Installing this pattern, which runs from short wall to short wall, can appear extend a space if it is too small, or it might draw attention to an accent elsewhere in the space.
Honed Finished Kota Stone Floor Design
This kitchen uses the same running slab pattern, but the outcomes are completely different. A honed Blue Kota Stone Tile is utilised in place of a polished stone tile. The long stone grains, which were created as water vapour fled during formation and followed the curve of the tile, accentuate the pattern even more. The polished countertop stands out more on the honed surface, which makes it easier to notice the depth of colour in the stone.
Mirror Polished Kota Stone Design
Kota limestone can be honed to highlight its depth, and polished to bring out its distinctive veining. This 12 x 24 herringbone-style installation of polished brown kota stone tiles. The bigger size tiles update a traditional pattern, and the polished surface conveys a sense of elegance that works well with the placed columns in the space.
Kota Honey - Fossil Design
In a small area like a bathroom, Kota Honey gives a design more depth and appeal. In this instance, polished Kota Honey runs parallel to a wood floor, into the shower, and up the wall as an accent, making a distinctive statement. An additional benefit of this installation is that it visually enlarges the space by producing an optical illusion that makes it difficult to distinguish between the wall and the floor.
Deeping Color Floor Design with Kota Blue
One of the most widely used stones ever is the grey and brown kota limestone extracted near Ramganjmandi, Rajasthan. Consider utilising Kota Blue's opposite, Brown Limestone, for a design that hints to that traditional appearance while adding fresh depth and richness to a space. Kota Honey's deep fossil pattern with a dark brown vein creates a beautiful contrast as opposed to a white Marble with grey veins. The stone floor in the bathroom is a work of art since it is laid out in a herringbone pattern that accentuates the veins.
Heritage Stone Floor Design
Natural stone tiles are available with a variety of finishes in addition to polished and honed. This Kota Blue has rounded corners and a softened, variable edge thanks to a tumbled or antiqued finish. It lends a more modern appearance to more casual spaces like family rooms, mudrooms, and entryways while maintaining a rustic or Heritage character when combined with the deep colour and vast size of the tiles.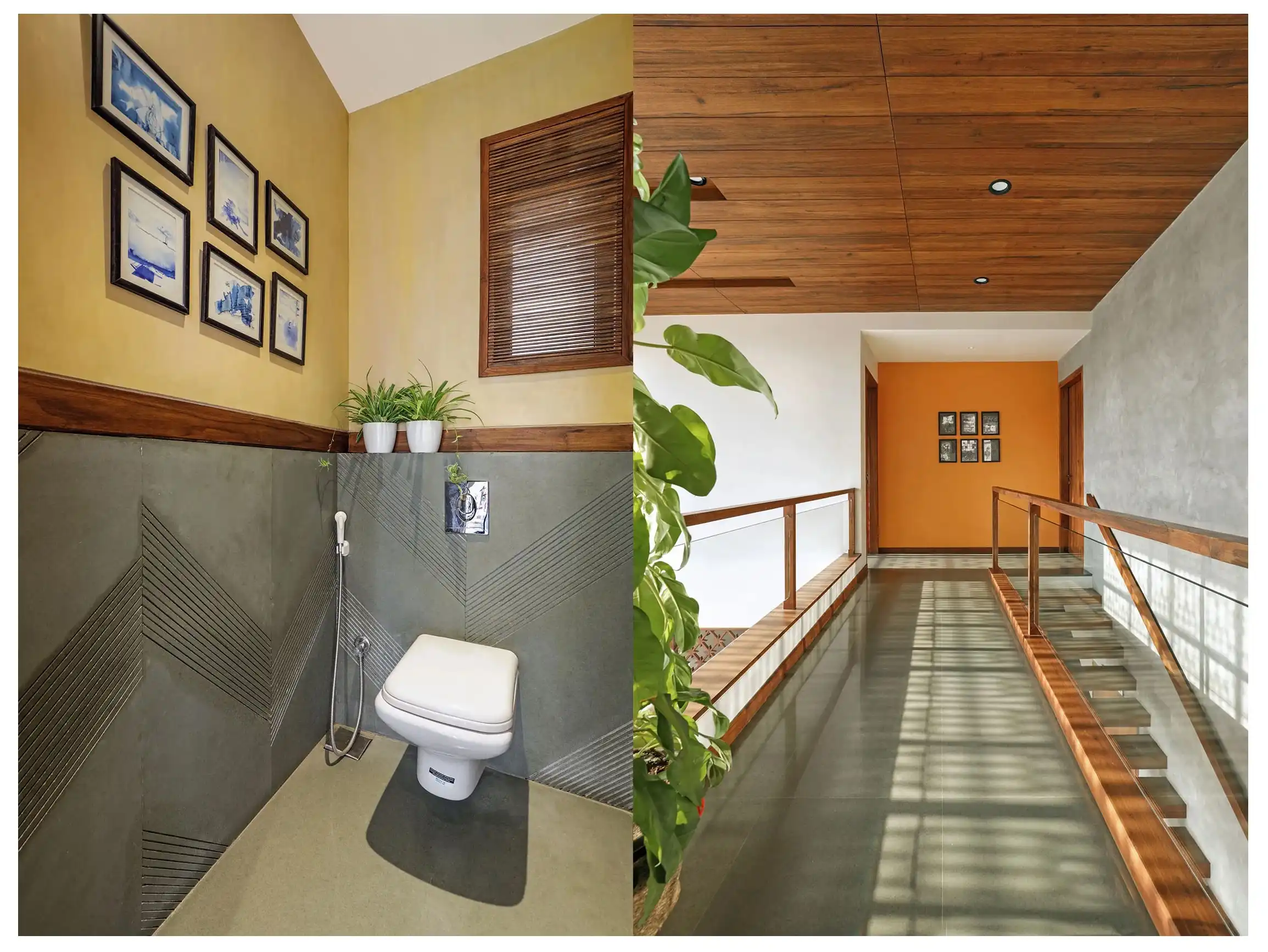 A Modern Black Floor
Black flooring are frequently associated with the blue/gray stone found in India. However, Kota Black is available in a variety of hues and textures, including this Black Blizzard. When laid out in a 38 herringbone pattern, it combines the strength and elegance of a black floor with a more modern aesthetic.
Fossil Limestone - Square Design
Like this Fossil limestone, Kota stone is available in a broad variety of different hues and tones. The variety of hues and textures in the floor, when laid out in a straightforward 12-inch square, straight set pattern, produce a stone "rug" under the feet that is ideal for positioning beneath desks, kitchen islands, or dining room tables.
You will also love to read about Inspiring Houses from Around the World.