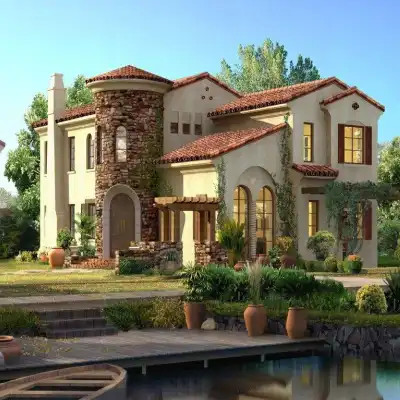 Designing a Beautiful Home
Beautiful Homes with Kota Stone around the world
Within the walls of beautiful houses, secrets of enchantment lie
A symphony of elegance and charm, a home dances to the tune of its owner's soul, inspiring people to craft beautiful houses that embody their essence. Regardless of fortune or stature, the pursuit of architectural marvels unites us all, transcending borders and cultures. Embark on a wondrous journey as we unveil some of the world's most captivating houses, bound to ignite your imagination and kindle the flames of your dream abode.
Within the walls of beautiful houses, secrets of enchantment lie. Perhaps it's the whispers of their storied past, the emotions they stir, or the allure of living within these resplendent spaces. Behold, the following abodes ascend to the zenith of magnificence, each a breathtaking masterpiece that evokes profound admiration. A mere glimpse at their resplendent photographs leaves us spellbound, tantalizing our souls with the vision of a home that seems to beckon with open arms.
List of the World's Most Beautiful Houses
If you've ever dreamt of being embraced by a dwelling designed just for you, where each nook and corner resonates with your being, then revel in this moment, for we bring you wonderful tidings!
Villa Leopolda, France
Location: Villefranche-sur-Mer, French Riviera, France
Villa Leopolda is a historic and opulent residence spread over 80,000 square meters. Built in 1902 by King Leopold II of Belgium, it boasts around 1,200 tree varieties and an array of flora, including orange and lemon trees. The villa's value is estimated at $750 million, making it one of France's most luxurious homes.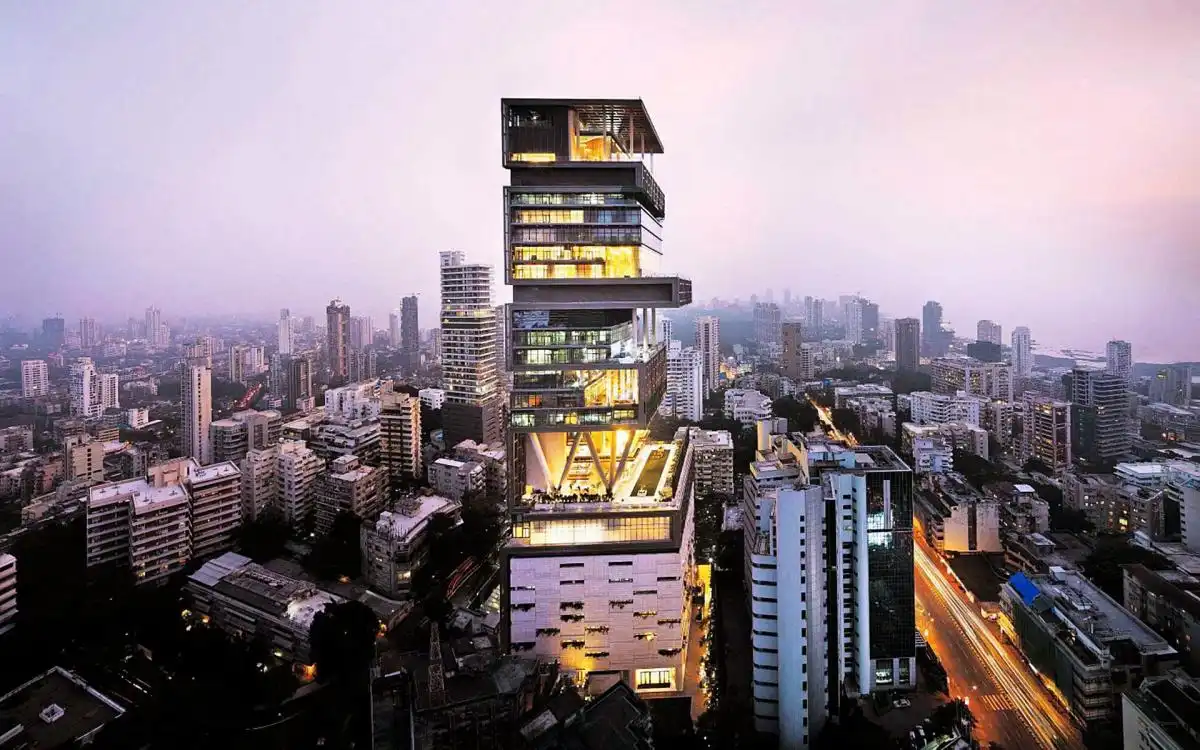 Antilia, India
Location: Mumbai, India
Antilia is a 27-story residential tower owned by the Mukesh Ambani an Indian business leader and belongs to one of the world's wealthiest business families of the world. Palazzo built according to Indian Vastu Shastra principles with kota stone flooring, the tower features three helipads, a 168-car garage, a ballroom, a theater, a spa, a health center, and more. Its unique design and opulent amenities make it a landmark in Mumbai.
Witanhurst House
Location: London, UK
This mansion reigns as the largest private residence in the UK, boasting an impressive 90,000 square feet of opulence. Dating back to the 18th century, it has evolved through several renovations, currently featuring 25 bedrooms. Owned by the Earl and Countess of St. Albans, the building's legacy dates back to 1741.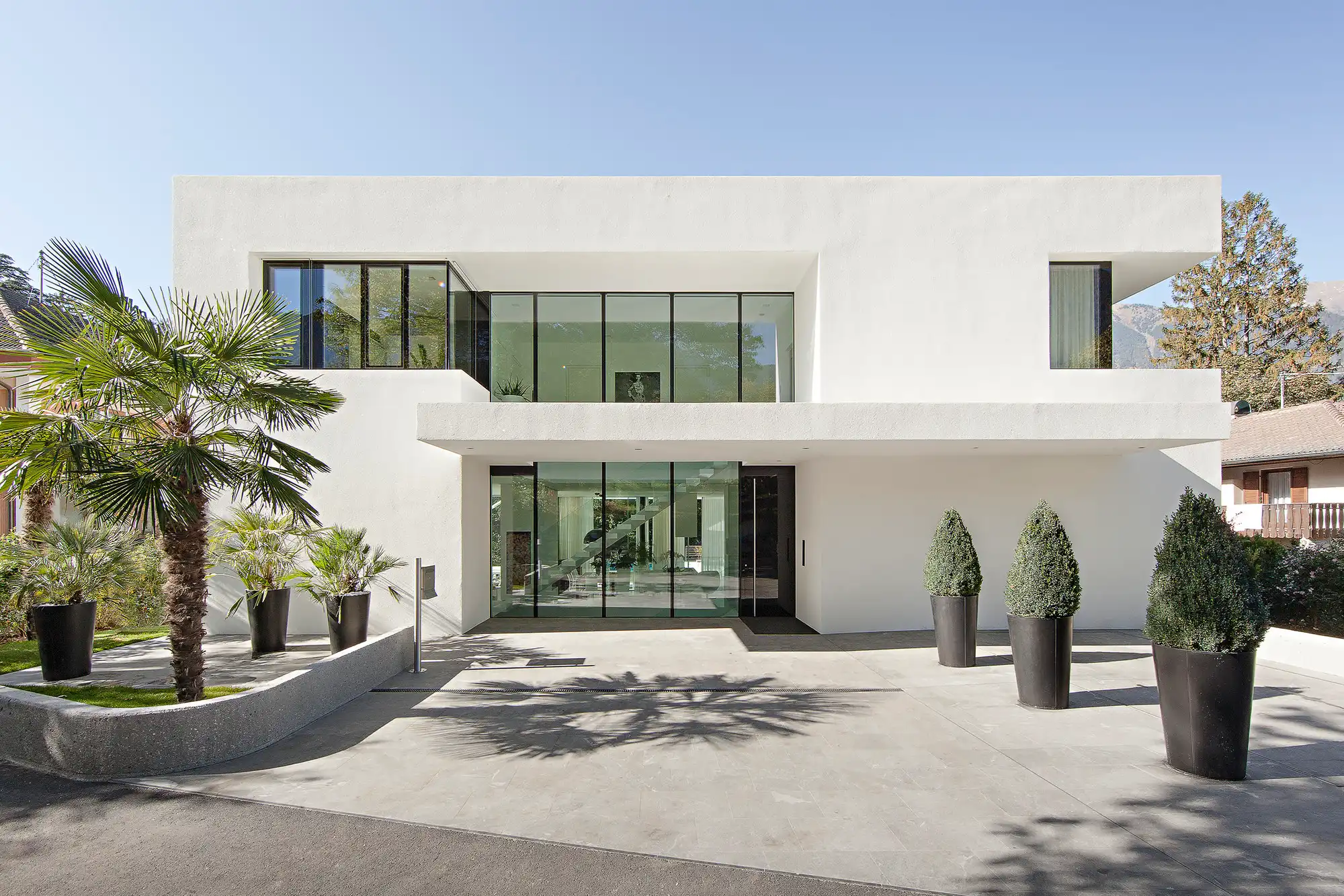 House M
Location: Merano, Northern Italy
"House M" is an ultra-modern living space spans 360 square meters, featuring all-white interiors, evoking a unique elegance. The sleek façade and minimalist glass design blend luxury with sophistication, offering spacious balconies and basement parking.
Sky Garden House
Location: Singapore
Sky Garden House is a residential property nestled in Singapore. The Sky Garden House is an iconic landmark. Elevated on stilts, it boasts a cantilevered glass facade offering stunning cityscape views. Its open-plan layout and floor-to-ceiling windows invite natural light, embracing a "go green" attitude towards the environment.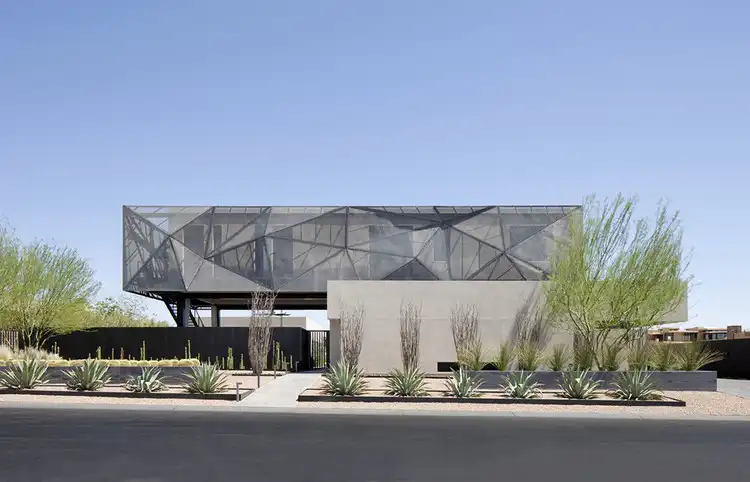 Tresarca House
Location: Las Vegas, USA
Embracing beauty and simplicity, this architectural marvel is set against the backdrop of the Mojave desert. It seamlessly blends with the picturesque landscape, mimicking the desert's topography with crevices cooled by shade and vegetation.
Dupli Casa
Location: Ludwigsburg, Germany
Inspired by "family archaeology," this extraordinary house symbolizes family unity and expansion. With an area of 6,900 sq. meters, it features four bedrooms, a vast dining area, and a pool with kota stone paving, making it an ideal home for families seeking to grow together.
Malator House
Location: Wales, United Kingdom
Seductively blending with the grassy cliff, Malator House offers unobstructed views of the coastal expanse. Its minimal invasiveness and temperature control capabilities make it a remarkable residence. The vibrant colored pod bathrooms add to its unique charm.
Chartwell Residence
Location: Los Angeles
Located in Bel-Air, this beautiful residence stands on 10.39 acres, offering expansive lawns and breathtaking vistas from downtown to the Pacific. The mega-mansion spans 25,000 square feet with 11 bedrooms, 18 bathrooms, and a wealth of luxurious amenities.
Updown Court
Location: United Kingdom
This fantasy mansion in Surrey, England, boasts 103 rooms, 22 bedrooms, and five Olympic-sized swimming pools. With lavish theaters, garages for eight limos, golf courses, tennis courts, and more, Updown Court offers an extravagant lifestyle.
One Hyde Park Penthouse
Location: United Kingdom
This high-rise penthouse in London's Hyde Park neighborhood offers five bedrooms and luxurious amenities such as heated marble flooring, a 21-meter pool, a movie theater, and a vast library, attracting multimillionaires and stars alike.
Manalapan Residence
Location: Florida, USA
Situated on a 5.5-acre plot near the Atlantic Ocean, the Manalapan mansion showcases a pool, golf course, tennis court, and basketball court, blending Old World grandeur with modern convenience.
Bellagio La Villa
Location: Hinterland
This stunning property in the Gold Coast Hinterland features ten opulent bedrooms and ten bathrooms, exuding elegance through made-to-order decorations and furniture.
The Summitridge Estate
Location: California
Built over seven years, this newly designed modern property in Beverly Hills spans 21,000 square feet, offering an array of luxurious amenities and breathtaking views.
Clifton 2A
Location: Cape Town
Clifton 2A, located near Lion's Head hill, captivates with its modern design and popularity among tourists, standing as one of Cape Town's most beautiful homes.
Tips and Tricks
Designing a Beautiful House
Designing a beautiful house transcends aesthetics; it's about creating a space that reflects your personality, enhances functionality, and fosters harmony and comfort. Here are some valuable tips to consider when designing your dream home:
Define Your Style: Discover your personal style and design preferences to guide your decisions throughout the process.
Prioritize Functionality: Create a space that meets your practical needs, optimizing storage solutions and traffic flow.
Embrace Natural Light: Maximize natural light with large windows and reflective surfaces, enhancing brightness and warmth.
Harmonize Colors and Textures: Select a cohesive color scheme and experiment with textures to add depth and visual interest.
Pay Attention to Details: Elevate your home's beauty with intricate finishes, decorative elements, and carefully chosen furnishings.
Incorporate Nature: Bring the outdoors in by incorporating indoor plants or garden courtyards.
Balance Open Spaces and Privacy: Design open communal areas alongside private retreats for a harmonious living experience.
Sustainable Design: Consider eco-friendly materials and energy-saving solutions for an environmentally conscious home.
Personalize Your Space: Display cherished items and mementos that make your house uniquely yours.
Creating a beautiful home is an endeavor that can resonate with the heart and soul. By combining aesthetics, functionality, and personal touches, your dream home can become a captivating reflection of your personality and a sanctuary for your spirit.