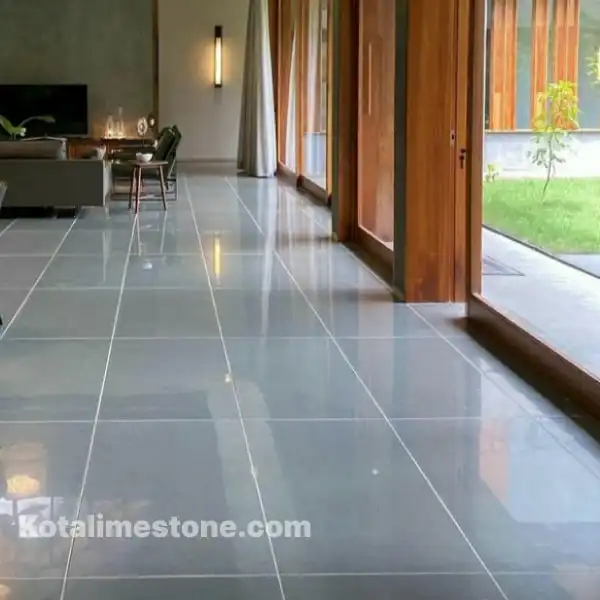 What is Kota Stone?
Kota stone is a Limestone.
All about Kota Stone Price and Factory Rates
Kota stone is a natural limestone. This limetone is famous by the name of Kota city of Rajasthan, where it has many mines. It is mostly found in blue-green, gray color. Apart from this, this is also available in Brown, Black, Pink, Beige colors. Due to its many properties, Kota Stone Tiles is very much preferred for applying in garden patio, commercial buildings, parks, office outdoor, hospital, hindu temples, staircase, balcony, lobby, corridor, and car garage etc. The price (rate) of Kota stone varies from Indian Rs. 15 per foot to Indian Rs. 50 per foot, depending on its color, finishes and thickness.
Benefits of Kota Stone Flooring
Kota stone is a natural limestone, hence bio degradable and eco-friendly.
It is not very expensive but looks very beautiful to look at.
Finishing of this beautiful limestone is very beautiful, which increases its beauty further.
Kota stone is very hard stone. It does not crack easily even the fall of any weight, keeping heavy goods.
Due to its strength, it is widely used in commercial buildings and lasts for a long time.
Kota stone floor is non slippery, so it can be fitted in factory floor also.
Kota stone can be produced in rough finish (light shine) and mirror finish (good shine) as per your choice.
This is a waterproof stone and does not absorb water because it is non-porous. Because of this, it remains free from water, dampness, moisture.
Kota stone is a good choice not only outside but also inside the house for drawing room, rooms, kitchen.
Kota stone reflects heat, hence remains cool in summer.
After getting old, by getting it rubbed again, you can create a new shine in the Kota stone.
It is cheap, beautiful, easy to get strong stone which comes in everyone's budget.
Kota stone is available in both slab and tile form, so it is easy to install and the cost is also less.
This stone is tougher than marble.
It tolerates all types of weather (dry, damp, cold) with ease.
Disadvantages of Kota Limestone Flooring
Every stone, whether it is natural or artificial, has some drawbacks. Let us know what are the negative points of Kota stone.
Flaking has been observed in very old Kota stone. However, it can be corrected with cream polishing.
Kota stone does not have luster & shine like marble, granite. But because of this, Kota stone does not slip. Although the shine of mirror finish Kota stone is also excellent.
This stone is not available in very big size.
Important
Use gray colored grout while getting the Kota stone fitted. If you use normal grout, it will turn black after some time and will look different from the color of the stone.
Shahabad stone
Shahabad stone which looks like Kota stone also comes but it is different from Kota stone. Shahbad stone is mostly available in gray color whereas Kota stone looks blue-green. While buying Kota Stone from the shop, keep in mind that it is not giving you Shahbad Stone instead of Kota Stone.